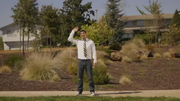 Brian Ryan "Ras" Rasmussen is a Smosh extra from the early days of Smosh. He is most famous for playing The Neighbor in the That Damn Neighbor series, as well as the announcer at the end of every Food Battle. He debuted in 2006 video Food Battle 2006 and his most recent appearance was in Food Battle 2016.
Ad blocker interference detected!
Wikia is a free-to-use site that makes money from advertising. We have a modified experience for viewers using ad blockers

Wikia is not accessible if you've made further modifications. Remove the custom ad blocker rule(s) and the page will load as expected.